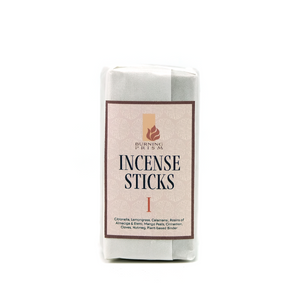 CASA DE LORENZO
Burning Prism Incense
Sale price Price ₱75.00 Regular price
Burning Prism Incense Sticks by Casa de Lorenzo
Locally made by hand from dried aromatic plant materials, the Burning Prism Incense Sticks diffuse to the air aromatic smoke when lighted. Used by the ancients to create an aromatic ambiance, an incense is usually made of resins, aromatic wood and spices. Traditionally burned over charcoal, through the evolution of cultures, many techniques have been developed to create incense. Recipes and processes have been passed down from generation to generation, for the creation of smoke for worship, warding off of evil spirits and repelling insects.
Burning Prism Incense Sticks are made of a variety of aromatic herbs or spices. Part of the incense sticks are made from plant materials that would otherwise go to landfills like fruit peel waste. Even the binder is partially composed of pectin extracted from the waste peels.
Best for outdoors use, has wide area of coverage even if area is well-ventilated. Can be used indoors but must not be left to burn all the way as it creates a lot of smoke. When using indoors, ensure there's adequate ventilation. Each stick can last 1-2 hours depending on air movement. If placed in an area with strong air movement, it may burn faster.

Burning Prism Incense Sticks I is made of Lemongrass and Citronella Leaves, Calamansi Peels, Rosins of Almaciga and Elemi, Mango Peels, Cinnamon, Cloves, Nutmeg and Plant-based Binder.
Burning Prism Incense Sticks II is made of Rosins of Almaciga and Elemi, Calamansi Peels, Eucalyptus, Bay Laurel, Neem, Cloves, Kakawate, Cinnamon, Plant-based Binder, Star Anise, Citronella and Lemongrass.
Each pack contains 4 pcs of Incense Sticks.
Instructions for Using:

Take out an Incense Stick from the pack.
Light it using a candle, lighter, or stove at the tip. Make sure that it catches good fire and embers start glowing.
Blow on the lit part of the stick to encourage embers to spread. We recommend ensuring 60% of the tip surface is burning.
Product will release a lot of smoke. Ensure good ventilation on areas it is used.
Set on a ceramic or heat proof surface away from combustible materials.
If you wish to reuse the incense sticks, just spray a bit of water or put a few drops enough to extinguish the fire. Set on a dry location and can be used on the next day
Text and images by Casa de Lorenzo