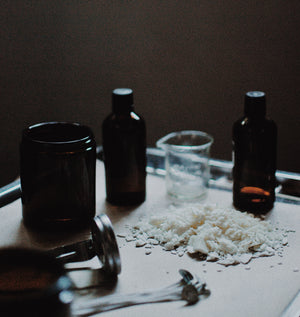 SAAN SAAN
Gawa-Gawa: Fragrance Blending and Candle Making Workshop (Feb 05 2023)
Sale price Price ₱3,500.00 Regular price
We've all been struck by the mysterious connection between memories and aromas. How do perfumers create such distinct scents that so instantly draw feelings and emotions? What inspires them? Can I do it myself?
"Scents have a power of persuasion stronger than that of words, appearances, emotions, or will," said Patrick Suskind. "The persuasive power of an odor cannot be fended off, it enters into us like breath into our lungs, it fills us up, imbues us totally. There is no remedy for it."
It's an incurable situation. And you are about to fall deeper into this mystery.
You have enjoyed burning Saan Saan candles and scenting your spaces for your rituals, moods and occasions. Now, it's your chance to craft your own fragrance and pour them into your own handmade soy candles!
Join us for an afternoon of storytelling, crafting and creating. 
Meet the creator of Saan Saan as he shares inspirations and anecdotes about his candle studio and learn about his creative process in developing his blends and pouring his candles. You will have access to a curated collection of fragrance oils, mix your personalized fragrance blends and pour them into your own amber jar soy candles. You will learn and understand the raw materials and tools you need in making soy candles, including timing, temperatures and curing.
This workshop  can accommodate up to 6 participants:
February 5 2023, Sunday 2-4 PM

SAAN SAAN Studio
G/F Ace Hotel and Suites, Brixton Street, Pasig City
 The workshop fee includes the following:
Attendance to a 2-hour workshop that includes both Fragrance Blending and Candle Making
All materials and tools needed including oils, soy wax, jars, wicks and other necessary tools
One (1) amber soy candle that you will make during the workshop